Workshops and Mini-Retreats
A Therapeutic Yoga Workshops and Mini-Retreats are a slower paced educational practice with alignment corrections offered for your bodies specific requirements where each individual's concerns and misalignments are considered. In the physical practice we combine and explore various yoga postures with supports where needed to assist alignment; somatic and tensegrity movements to help build muscular & nervous system connections building whole body system knowledge and strength in all parts of the body (especially the deep core); Gentle flowing movements linked with the breath to warm the body up boosting positive energy as well as connecting breath, flow of prana & body awareness. We also explore Yin, Restorative & Therapeutic based postures & movement depending on the theme of the workshop. Slo-mo ball releases to assist the letting go of holdings in the deep connective tissues and fascia network may also be taught in these workshop settings. Various breath techniques are taught with the focus to activate the parasympathetic nervous system (relaxation response) & deepen breath awareness in the body.
A 15-20mins check in at the beginning of each individual workshop along with knowledge of anatomy & yoga philosophy being guided is discussed before we go deeper into exploration in the practice. It is advised in every workshop to honor being in the present, staying mindful & open-minded and taking the time to explore your bodies sensations & your pain-free range of motion. During the workshop, you have the freedom to ask your questions at any time during the workshop as they arise.
Our Goal is to "Move into Ease, Joy & Comfort in your Body Mind & Spirit" The Journey is up to you and your efforts for change, awareness, positive health, and Love for self are encouraged.
Up Coming Workshops & Mini-Retreats
"Open & Discover"  Spring therapeutic Yoga Workshop Series
Sundays 10:30am-1pm $40/workshop $200 for full series
Workshop Dates, Theme & Instructor :
March 3rd "Core Explore" ~Annie
March 17th "Hips & Shoulders" ~Annie
March 31st "Back Care" ~Robyn
April 14th "Desk Jockeys" ~Robyn
April 28th "Breath Connection" ~Annie
May 5th "Pain Management" ~Robyn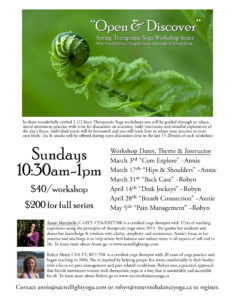 ** Therapeutic Yoga Registered Classes & Workshops will start up again in 2019*
"Annie offers a calming environment from the moment you step onto your mat. She is able to explain and teach without confusion. The wisdom and knowledge Annie shares throughout her classes have you leaving feeling more uplifted, inspired and free. As Albert Einstein said – If you can't explain it simply, you don't understand it well enough." ~ Belinda 2015
"Annie is the complete yoga teacher! She has been my touchstone since I moved to Squamish and over the past ten years I have come to her drop-ins, registered classes, workshops, prenatal and mom & baby and loved every single minute. Her practice hits the perfect balance between body, mind, and soul. Deeply intuitive, nurturing and wise, Annie leads from the heart but supports her teachings with extensive knowledge of the human body. She always gives that little bit more. I especially love the poems she reads during savasana! I take a precious nugget away from every single class. Thank you so much, Annie." ~ Luisa 2018